StLuciaStar.com
By KERYN NELSON
March 4, 2018
"Run while you're on vacation" was the theme of the day for over two hundred visitors running in Saint Lucia's first ever 'Run for Fun' event on Wednesday February 28. In collaboration with Run for Fun Cruise Tours in the United States, local tour operators Serenity Vacations and Tours (SVT) executed the fun run with the aim of providing cruise ship passengers with a unique opportunity to see Saint Lucia and to spark their interest to return.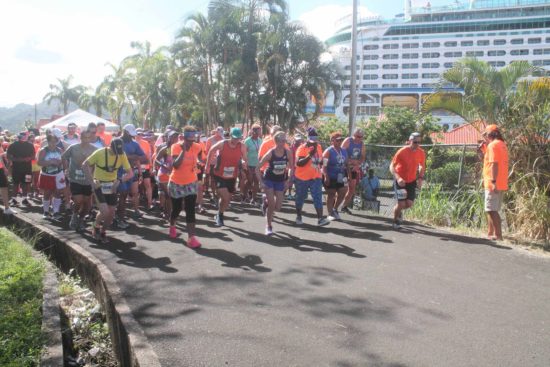 Visitors setting off on the first Run for Fun race to be held in Saint Lucia.
The race kicked off at 9:30am from the Duty Free Pointe Seraphine complex and sent runners—who were all guests onboard the Serenade of the Seas, Royal Caribbean cruise vessel—along the John Compton highway, to the Vigie Lighthouse and back.
In an interview with the STAR, SVT's Ambassador John Mathurin gave further insight into the company's motives for hosting the event: "Run for fun! Ostensibly, it's a fun race but, what we are doing here today, it is our nascent launch for a cruise convergent platform. For us, we think it's a travesty, as a private sector entity within tourism, not to take advantage of this large demography of people that we have coming in."
Having seen the event take place on neighbouring Caribbean islands, including Barbados and Saint Kitts and Nevis, the Saint Lucian organiser's main objective is not to boast the best Run for Fun event but to give participants a reason to want to return to the island. "Though it is a marathon event, we have decided to turn it into something which can encourage visitors to come back to Saint Lucia again and again and again," Mathurin explained.
While Serenity Vacations and Tours received encouragement from the government and the Tourism Authority—who initially contacted and enabled the company's connection with the event's umbrella organisation in the US—gratitude was also extended to other event partners. During his speech at the opening ceremony, Mathurin relayed thanks to Windward and Leeward Brewery, Fineline Graphics, Bay Gardens Beach Resort, Rainforest Adventures, the Saint Lucia Fire Service and the Royal Saint Lucia Police Force.
In a further act of generosity, before the race kicked off, runners  handed over donations to the Gros Islet Secondary School in the form of school supplies and a monetary contribution.
Although it was a fair turnout for the event's premiere in Saint Lucia, during his interview, Mathurin stated, "This one is actually a build-up to a larger event next year where we anticipate we're going to expose our cruising visitors to so much more of what Saint Lucia has to offer." In time, the event will be marketed to Saint Lucia's entire tourism market and will open up to not only other cruise vessels but hoteliers as well.
As for the success of the first Run for Fun event, Mathurin stated, "Already we had interest coming from our runners, even before landing here in Saint Lucia, so we anticipate that other business clients and associates within the tourism sector will partner with us for upcoming events."